---
AWARDS
---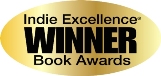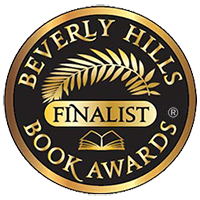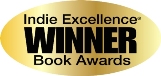 ---
---
_______________
TRAVELING FOR LOVE: SEARCHING FOR SELF, HOPING FOR LOVE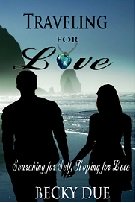 Amanda's life is suddenly turned upside down when her husband tells her he wants a divorce. She realizes she no longer knows who she is – her life revolved around her husband. At age 40, she finds herself divorced, living in an apartment with a roommate, with little education and no career path. Will she find the career of her dreams? Can Amanda heal her pain and find love again? To get your copy of Traveling for Love, click here.

Five Star Reviews

"This book was AMAZING! …I picked it up this morning and couldn't put it down until it was finished! I love books like that."
Recommended!
"This is an engaging, entertaining novel that will appeal to fans of women's fiction… Amanda's voice is honest and vulnerable, and the writing is fluid and smooth and kept me reading and interested in the outcome. I also enjoyed all the travels and felt myself transported to exotic places. The author explores themes of gender roles, divorce, and loneliness. Recommended!"

"This is a quick read… the type of book you just don't want to put down. I feel all women can relate to this story no matter what your personal love life history is."

"You'll have to read this book; it's about one woman's journey to find herself. Reminds me a little of Eat, Pray, Love, But so much better. I give this book a 5 stars and can't wait for the next book by Becky Due!"
Recommended!
"If you need something to read while at the beach this summer, you have got to grab a copy of Traveling for Love: Searching for Self, Hoping for Love by multi-published author Becky Due. This book is fantastic. If your husband asked you for a divorce, what would you do and how would that make you feel? Like dirt? You betcha. Find out how Amanda overcomes the odds while digging your toes into the hot sand!"
____________________
The Dumpster: One Woman's Search For Love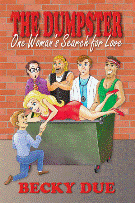 Nicole is an average American woman who is looking for love in all the wrong places with all the wrong men. Who would have guessed that the dumpster below her bedroom window would hold the key to finding real love? Will Nicole stop falling in love with every man she meets? Will she solve her pattern of self-destruction and stop letting men use her?
To get your copy of The Dumpster, click here.

Five Star Reviews

"Nicole is a single girl living in Miami who enjoys life and the challenges that come with it. This book takes you inside her love life, that is not so great at the beginning, but soon becomes a fairy tale that every girl wishes for by the end of it. Her relationships with her friends, her neighbors, and her parents are also a big part of the book, but the dumpster that sits below her bedroom window is the one thing that she sees as a curse in the beginning, but it actually becomes a blessing in disguise. I loved this book because as a woman who has been with the same man since I was a teenager, it was refreshing to read about a woman who struggles, but soon finds herself living a happy life without a special someone in it all of the time. This book was easy to read and there was always something interesting happening at the turn of each page. I look forward to reading more of Becky's books in the near future."

"Although this book is far more graphic than what I usually read, I found it to be well-written and fun. This would be a great read for modern women of any age who find themselves making wrong choices in relationships. Keep in mind, however, the subject matter and language are graphic, so reader beware. Throughout it all, you will cringe at the female protagonist Nicole's mistakes, giggle at the awkwardness of it all, and sigh in relief when she learns to respect herself."

"I really enjoyed this book. A good spoil free summary would be "A woman clearing her mind and shedding unneeded baggage to get to what/who she really needs". This book is funny, intelligent, and a very entertaining read however my advice would be to take it for what it is Light hearted entertainment. This book is not meant to be rocket science. And for the prudes out there I will say the main character really enjoys sex if this is something that might offend you this book is not for you. She is certainly not a virgin/nun type. Sure there are a few "graphic" parts in it however as an ADULT I took it for what is was and where the character is in her life at that moment. The honest truth is we have all been in situations that might not sound so pretty described on the written page but they were still part of our lives. Drop the harsh "moral" judgment and see it for what it is a true depiction of the characters life at that point and you will enjoy this book."

"The Dumpster is a great book to sit outside and spend the afternoon reading. It tells the story of Nicole, a woman with low self-esteem who makes some changes in her life to become a vibrant, confident, happy person. I loved this book. Once I started reading it I didn't want to put it down. I just couldn't wait to see what happens next!"

"After reading the first few chapters, I knew I had to finish reading it or else I wouldn't be able to get through my day. This story of a young woman (Nicole) is obsessed with the idea of love, and men. After finding herself in desperate relationships and failed connections, she moves her journey from sex and love to true love and self-discovery. The dumpster parked in front of her home is a foreshadow of what's to come in her life – ridding of baggage and other things that clogged her mind/body and home. She starts throwing away everything she didn't need anymore (things that reminded her of certain men) and junk. This starts to change her life. This is a book I'd normally read at the beach or on vacation. Didn't require much thinking and the writing was easy to understand. It's a light hearted combo of strong woman and insecurity at once. Recommend!"

"This book was good because of the easy flow of the writing. If I didn't have to stop to eat, sleep, or go to church, I would have read the whole book in a matter of days instead of the traditional week. This book had me so immersed in it that I read almost half of the 196 pages in my first sitting. It bothered me that most of Nicole's men were self-absorbed. They only stayed around because they got what they wanted. She did make it easy becoming intimate with them so quickly. Why buy the cow when one can taste the milk free, right? Some of the men she dated had personalities that smelled as bad as that dumpster outside her window. I will give her credit though for not sleeping with the guy she called "the geek'. That dumpster was symbolic. I admire the way Nicole pitched everything unwanted out her window into the dumpster, starting with the portable DVD player Tom gave her with his "Valentine's Day" message. I clapped when she whizzed through her apartment, getting rid of old stuff. I really admired the way Nicole handled her breakup with Stan "the rebound man" and the way she let Tom know it was over. Her comebacks had me cracking up. If this were made into a movie, who would play the lead role? It might become a cult classic."

"I Loved this book! What Can I Say About it Nicole rocks really I'm so glad Becky Due wrote a character that really is perfect for every woman not just me but everyone self-esteem is very important and I'm glad I found an author whose main heroine wasn't a size zero but was beautiful being full figured even if it didn't happen till later in the book to realize it.. Now some of the men in her life were real douche bags and seriously Tom I'm sure there's a few men out there who dump chicks that way. I loved the love she had for friends and family. The dynamic between everyone and I think I really fell for Ernest he was my fav character!!! Rick deff isn't half bad for sure. This book made me laugh out loud and tear up at points awesome job Becky!"

"I really enjoyed this book. The main character is a chubby woman named Nicole. Nicole is overweight and unhappy. She drinks and has one night stands. Sex and liquor are an obsession for her. She creates alternate realities with her one night stands and really sets herself up for heartbreak. No, high self-esteem is not on Nicole's list. However she bounces back from the rejection of these many men quite quickly. I was glad that her sex obsession did not make her a stalker. Somehow she perseveres and finds love. The book was an easy read. It covered serious situations, in an amusing way. I recommend this book to woman of all ages."

"Nicole, a 20-something self- sufficient, working women has a front seat few of her world and everything that is changing in it. From family problems, boyfriend issues, to best friend relationships changing Nicole finds herself where many women her age are…while lacking self-esteem to boot. From the start everything is heading in a happy ending with some unexpected new arrivals, and some wonderfully written steamy scenes. The funny yet so-true-of-many-women antics made this a funny, pleasurable, and easy read."

"The Dumpster tells the story of Nicole, a twenty-something banker living in Miami, FL, who is searching for Mr. Right, but getting Mr. Right Now time and time again. A dumpster is placed under the window of her condo, and in her quest to have the smelly dumpster removed, she finds herself, and love. I thoroughly enjoyed this book. I was sucked in right from the start, and although it is a quick read, I did not want to put it down. In fact, I would love to read a whole series on this character. I found Nicole easy to relate to, though she is nothing like me. I also found the openness and honesty of the book on topics like sex, relationships, and even the less glamorous parts of womanhood, to be just enough without going over the top, and it was a rather refreshing read. Funny, entertaining, and a good quick read. 🙂 I received an electronic copy to read for this review, but I would definitely buy works by this author, and especially this character, in the future."
____________________
Returning Injury: A Suspense Celebrating Women's Strength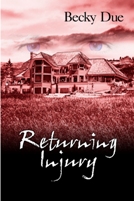 Rebecca is happily married, loves her career, but she has one huge problem—a stalker. Home alone, and feeling like she's going crazy, she has to learn how to take back her life and regain her strength. Will Rebecca ever feel safe again and stop living in fear? Can she protect herself? Is she going to lose her mind… or her life?
To get your copy of Returning Injury, click here.


Five Star Reviews
"I read Returning Injury not knowing what to expect. I was amazed at how it changed my life. After reading this book I decided to go back to school and get my degree, something I wanted to do for years but never did. I knew I had to make a change in my life and in less than six weeks I was a college student. Thank you Becky Due for giving me the motivation to improve myself, I never expected a book to move me like this one has.
"There are many problems that everyone may face in their lives and abuse is very common in society today. The storyline shows that every person who has experienced abuse can overcome their fears and move on with their lives. The book was well written and was full of suspense, emotion, love and hope. This is a great book for anyone who has been abused and I especially liked how the author incorporated the PR work into the story."
"Returning Injury by Becky Due is a captivating novel about fear and courage and a young woman named Rebecca. Rebecca is a survivor of severe abuse suffered from a former boyfriend, Roy. Rebecca was responsible for putting Roy in prison. During the time he was in prison, Rebecca has created a new life for herself with a new job and husband. Rebecca discovers Roy has gotten out of prison and suddenly she is overwhelmed with all her old fears and insecurities. In the course of her new job, Rebecca has come in contact with a woman who lectures on women's abuse issues. Seeing her own experience reflected in the speaker's lectures, Rebecca starts to examine her own life and the values she has absorbed. The author uses this context to bring out a lot of information on abuse and how it affects women and all of society. This story allows the reader to made aware of the abuse of women and how it is tolerated and even encouraged in our society. It makes the reader question why it exists and what can be done about it."
"This is a help book for all abused women and girls. It tells of Rebecca's life of being abused by a past boyfriend Roy. She is happily married to a wonderful man and is a rich lady with everything she could ever want, but, she can never forget what happened to her a few years back. She started dating Roy because her boss set her up with a friend, but sometimes he would be nice and then sometimes see, like a different person. When she decided to break it off with him she had no idea of the man she was dealing with. Even after he was sent to prison and she found out he was released she didn't tell her husband and let him go on a business trip. She was always watching over her shoulder and though she saw him everywhere. My thoughts on this book. It really opened my eyes to what is going on in this world. I am so thankful that I have never had to deal with this abuse. Beware if you are sensitive on explicit sex and words that it offend. The book will be a great read for anyone that has ever been abused so thanks to Becky Due for writing it."
"THIS IS A MUST READ FOR ANYONE THAT NEEDS TO ESCAPE THEIR PAST…THIS BOOK NOT ONLY LEAVES YOU WANTING TO BE A BETTER PERSON BUT TO HELP INFLUENCE OTHERS…TEN STARS FOR THIS ONE CAUSE I'M A DIFFERENT PERSON AFTER READING THIS BOOK."
"Returning Injury is about Rebecca who after years of fearing her past finally finds the strength to put it behind her. Her husband, Jack, leaves town on business leaving confident Rebecca at home. She chooses to spend her time alone catching up on work for her PR Firm which works with women. Preparing a proposal for her client you read about some disturbing facts about abuse (various forms) and what it does to women. Quickly you are pulled into her past and fear that it will catch up with her. Suspense novels have never been a favorite genre of mine, but Returning Injury kept me reading. I would find myself sneaking in to read just one more page and before I knew it, I had finished the book. Certainly hard to put down! I love that this story was very thought provoking. I related to Rebecca in so many ways and kept asking myself if I am safe and what can I do to be more "powerful". I will be taking a self defense class next month to empower me a little more."
"So I picked this book up one night and literally could not put it down. I was a little leery at first since I had never read one of Becky Due's books before. Yet, as soon as I started I was sucked into the story. For a new author I was incredibly impressed by the writing style, and the intertwining of facts and fiction. At times I felt the women's issues were hitting me over the head with the repetitiveness, but they never seemed out of place in the story, and what was said needs to be heard. If you like fiction and suspense please check out this book. It was definitely worth the read."
"This is one of those novels that literally tries to tell a story while really telling everyone a real story. In this case, the background message is a super important one, and something that every person needs to concern themselves with, and that is the treatment of women around the world. I know that every time I see someone bring up women's issues, the eyes start to roll, but believe me, if it was your mother or sister, aunt or daughter being victimized right now, your eyes would not be rolling. Once I started this, I couldn't stop– its a good message and a good read. It was very emotional for me though, because I was attacked several years ago and those fears and emotions never go away– and just reading this brought all those feelings back for me. This is definitely a good read, and I honestly think folks need to pick up more stuff like this. We would live in a different place if everyone did."
"Returning Injury is a character driven story about Rebecca, who is someone I, and most women, could identify with. Becky Due really drew me into the story with great imagery and character development. It made me take a deeper look at myself and how I have been living my life. Filled with suspense and many surprises, it was one of those great books that you just don't want to put down. It appealed to my innate nature to want to figure things out and just when I thought I had it nailed, Becky threw in a curve ball. Lots of fun and a great story!"
____________________
Touchable Love: An Untraditional Love Story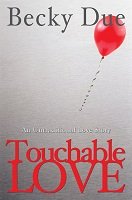 Christy's secret is forcing her to avoid love and relationships. If only she had made better choices, respected her body and slowed down enough to realize what she truly wanted… Love. Will Christy face her past so she can look forward to her future? Can she open her heart and let somebody in? Will Christy let somebody love her?
To get your copy of Touchable Love, click here.

Five Star Reviews
"Christy has a secret past – one that makes her question whether she will ever be worthy of being loved. We follow her as she progresses in her determination to lead her life differently. The lessons she learns along the way are universal lessons. She tackles big issues: prejudice, self-loathing but also shows us her compassionate, humanitarian side. And, of course, there is romance. Structurally, this is a different kind of novel. It has the flavor of the traditional plot driven novel which Becky Due does quite well. But where she shines is in the parts that read like a spiritual/how-to guide. Any person who needs to take control of their lives, who needs tools for strength and self-confidence would do well to read this book, if only for the delightful scene between Christy and her therapist. Here, Becky Due takes off her novelist hat and puts on her therapist one as she instructs on the three ways to release unwanted baggage, four keys to happiness and two rules in finding the love of your life. Delightful, entertaining and inspiring reading."
"While reading Touchable Love first ten pages left me feeling for Christy. She is a woman who is lost in the world and will do anything to make herself "fit in" including sleep with men who only bring her down. She is at a point in her life where she feels like she can never get a head. The way Becky Due uses her words are beautifully crafted. She helps make Christy sound lost and confused, not like a hooch. This story about romance is very untraditional. This story inspires other women to keep on keeping on, and keep waiting for that one man to help pull you through this tough times. I love how the beginning relationship between Christy and Paul starts with her fearing catching something, to ending in a love Christy yearns for once his illness over takes him. He taught her so much. This book is so well written, to the point I felt like I was in the story myself."
"Touchable Love, An Untraditional Love Story written by Becky Due is the story of Christy, who is trying to discover some meaning in her life. Her journey begins as a promiscuous drinker who only cares about sex and alcohol and ends with a mature woman who knows where she is going. Along the way, we get to meet Paul, her employer/friend who suffers and eventually dies from AIDS, and Brian, his nurse and confidant. Paul and Brian teach Christy abut friendship and the true meaning of life and self-worth. Another great read from Becky Due!"
"Touchable Love, An Untraditional Love Story is a poignant tale about a woman's journey to find out the meaning and purpose of her life. Christy takes us along for the ride while she discovers the true meanings of both love and friendship. This story gives an insiders view of living with AIDS and the social stigma that comes along with it. Great story that is hard to put down once you start reading."
"I think this is the best book Becky Due wrote. While acknowledging that her other books touched on important questions and issues, this is the one that really spoke to me. My very favorite part was when Christy was cleaning her apartment and Ms. Due wrote, "She believed the clutter and chaos in her apartment represented the clutter and chaos in her life. The lack of care for her apartment matched the lack of care she had for herself." The story is fairly simple, Christy, a troubled young woman, comes to help Paul, who is dying of Aids and wishes to document his journey with photography to visually warn others away from the lifestyle he has led. Christy falls in love with him and is devastated when he dies. But really, it isn't Paul's illness that the book focuses on – it's Christy's. She is carrying around many many issues from her past and this book is really about her working through those issues until she reaches a point where she is "healthy" emotionally and mentally. I'd say that any teen girl would enjoy this book because the issues Christy struggles with are issues that every woman struggles with at some point in their lives."
"This is another great book by Becky Due. I really enjoyed reading this book. This book makes the reader open minded that love can develop in unexpected relationships. Christy is one of the first characters introduced in the story. Christy is unhappy with life and feel there is no meaning in her life. Also, Christy is a cutter and cuts herself to feel pain. Paul is an unexpected character that comes on and changes Christy's life. Paul teaches Christy how to love and feel. This is a captivating story and will leave the reader unable to put down the book."
"Becky Due scores again with "Touchable Love, An Untraditional Love Story" I thoroughly enjoyed this story and have already suggested it to a few of my friends. Christy is the main character, and the author does an amazing job developing this character. In the beginning, she is in a really low place, trying anything to find happiness and self-worth. She finds herself in a lifestyle void of anything meaningful. She decides to use her love of photography to try to find meaning. Here, we meet another character Due has done a great job developing, Paul, a man with regrets who is dying of AIDS. Christy and Paul develop a unique friendship and you'll enjoy reading how they help each other. Due creates novels with a romantic elements but that are much deeper than a regular romance novel. You will enjoy the thought process involved in this story as well as the story."
"Touchable love starts out with an introduction into the life of Christy, a young lady with many social and self-destruction issues. Christy uses her passion for photography to land a rather unusual job photographing the death process of Paul, a man dying from AIDS. Through the dying process of Paul, Christy gains a whole new perspective of life. Christy begins to feel an attraction to Brian, the nurse who is taking care of Paul during the last dying days of Paul's life. Christy learns a lot about self-value and after the death of her boss and photo subject Paul, she takes what she has learned and used it to start a whole new way of living. Touchable Love is a very easy read with a lot of lessons along the way."
"Becky Due has written another terrific book, Touchable Love, An Untraditional Love Story. This the story of Christy who finds her life so empty of love and meaning that she resorts to cutting her own skin to feel some spark of life. She runs away to Florida to take a job documenting the life of a famous photographer who is dying of AIDS. As she sees how he is dealing with his life and death, she learns to care for him. By his reciprocating her caring, he teaches her to value herself and a real love relationship. Christy also develops an intense friendship for the photographer's nurse. Together these three people create strong bonds of friendship and love. After the photographer dies, Christy realizes that his love and death has taught her to value herself and the love she can create with others. He has given her the gift of being able to feel and share real love."
"Touchable Love, An Untraditional Love Story is another wonderful book by Becky Due. This is the story of Christy a beautiful girl who sees no beauty in herself or her life. Fleeing a life filled with meaningless sex, no true friends, and self-destruction, she takes a job as a photographer. Her subject is a man, Paul, who is dying of AIDS. He wants to document his life as a way to warn other people about dangerous behavior and to atone for his fear that he gave his dead lover AIDS. Christy and Paul grow to be loving friends, each showing the value that they find in each other. Christy also meets and begins to care for Brian, the nurse assigned to take care of Paul. As these two men show Christy how they value her, she learns to value herself. After Paul's death Christy starts a new life as she reaches out to find meaningful relationships with others and with herself. Touchable Love is a journey to self-discovery and self-love that can be a guide and inspiration for all women."
____________________
The Gentlemen's Club: A Story For All Women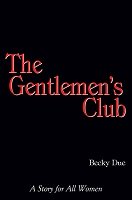 Angie doesn't want to be a victim anymore. Deep down what she hopes for most is to find a good man to love and to feel safe and protected in this crazy world… but her fears take her down the wrong path. Angie befriends other women down on their luck and they team up to get revenge. Can Angie let go of her pain and escape the Cycle of Abuse? Will she and her friends go too far to get revenge? Will Angie find the love and protection she's looking for?
To get your copy of The Gentlemen's Club, click here.

Five Star Reviews
"A little girl faces physical & mental child abuse-growing up she deals with this and her mother being abused also. She becomes a young adult who lives out of her car struggling with dead end jobs until she lands a good job stripping which was short lived. Along the way she meets her new best friend and bond quickly. She ended up writing newspaper articles, woman articles for a local newspaper, stripping being one of them. How do they let themselves be subservient to those men. Why would they want to parade in front of them, or even go out on a date with them. It was just for the money and attention most would say. In todays society women are exploited everywhere. She also stresses that woman need to fight for the respect they deserve."

"This is a book that deal with real world issues and geared toward women. Angie is one of the main characters in the book. Life has not always been good for Angie but she keeps hope that life will improve. The book deals with a lot of issues that women face in society. Some of the issues discussed in the book are molestation, rape, incest, sexual harassment and domestic violence. Some parts of the book are very raw to make the reader understand the reality of a subject. As well as, the book is very inspiring and leaves the reader rooting for the character to succeed. It's important to realize that as women we are in control of our future."

"Everyone should read this book, but especially women. It is such a powerful story that really touches your heart. Angie, the main character, is such an amazing woman. For years, men have abused her. She has been through more than most people can even imagine and is now left homeless and really in a bad place emotionally. Most people would give up. Not Angie!! She decides that she will not be a second class citizen, she will not let her circumstances define her. Her struggle back is hard but she keeps going and even more admirable, finds other women like herself, and encourages and inspires them. You will really be impressed by this woman. I encourage you to not only read it but share it with other women in your life."

"The Gentlemen's Club: A Story for All Women by Becky Due tells the story of Angie. It is a violent and ugly story as Angie confronts her own experiences of sexual abuse and the experiences of other women. As Angie examines her own life she develops the hope and determination that she will have a better life in the future. She will not let the degradation she has suffered at the hands of men control her life or her opinions. Angie's strength and example ultimately give hope to the women she encounters and she is able to teach them not to succumb to self-loathing and self-defeat. Angie's heroism and self-awareness provide an excellent role model for women and young girls in our society. This story should be assigned reading in every middle school and high school for girls and boys. Although it is violent and graphic, it also is an anthem to the virtue of following one's individual conscience and not accepting negative self-images presented by other people."

"The Gentlemen's Club: A Story for All Women by Becky Due is an amazing book. I want every woman, girl, mother, or daughter to read this book. It tells about the life of Angie, a homeless woman whose experience with various forms of sexual abuse is mirrored by the life stories of the women she encounters. It is also a story of triumph as Angie and her friend Julie do not accept the conditions of fear and self-hate that afflict so many of the women in this novel. Angie and Julie teach the other women in the book to be proud and strong and to not accept a second class status. Though this book is a story about women and the abuse suffered by them at the hands of men, it is a story that is valuable for men and boys to read. If men and boys read this story, it would act as a wake up call for them to think about their actions."

"The Gentlemen's Club: A Story for All Women is a strong, inspiring book written by Becky Due. I could not put it down. The author is a truly amazing writer who creates such powerful imagery. The story is about a woman named Angie who has so much against her but she still manages to keep a positive attitude and eventually overcome her past. This isn't just a feel good story about success. Due has added so many elements that are really important for all women to read about. As women, we need to stick together, help one another and this is one of the lessons this book emphasizes. There are so many more. You will learn so much and though you may not initially relate to Angie, so much of her is issues faced by all women. Some of the problems you will encounter reading this book are disturbing and upsetting but I think they are written well and add to the story. You will most likely cry a few tears before finishing this book but you will also smile big and laugh too. This is a great book and would be fun to read with a group of women friends."

"Homeless and alone, Angie is taking a close look at her life. Her aspirations to be a writer are being pushed aside as she simply tries to survive in a difficult situation. But when she meets the vivacious Julie, she starts to open up and explore the path that has led her to this place, and begins the fight to escape her predicament. "The Gentlemen's Club" is the story of a woman's growth into a powerful and outspoken advocate for her gender. Told from the perspective of a young struggling write, the story relates how the oppression and fear inflicted by men upon Angie and her friends has eaten away at their self-esteem and self-respect. Eventually, Angie finds her inner strength again with the help of a close friend, and together they work towards guiding other women to the same achievement. Ultimately, Angie researches an article about the Gentlemen's Club, a prominent stripper's bar, and she and Julie set about freeing the women who work there from the histories that have kept them oppressed, cumulating in a powerful act of revenge. Becky Due is a very talented and intelligent writer. While her personal stance is ever-present in the novel, the individuality of each character comes across clearly and intensely. She has a strong message to deliver, and successfully does so with full and effective force. Her empathy with the plight of women is conveyed with great heart and passion, and she fills the characters' lives with enough trials and tribulations to make their present difficult situations believable and understandable. The author is a longtime advocate for women's issues, and volunteers with Victims Services and as a guest speaker. She is educated in both Journalism and Women's Studies. A percentage of the profits from the sale of this book go to `Alternatives to Violence.' With a very decidedly feminist perspective, this book offers a great deal for woman in the way of self-understanding and self-realization. It is a very valuable addition to the increasing mass of feminist literature."
___________________
The Woman's Handbook ~
Everything You Want to Say to Your Daughter, Sister, Niece, Friend
in One Simple Book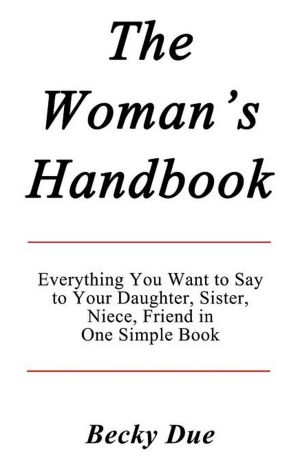 Everything You Want to Say to Your Daughter, Sister, Niece, Friend in One Simple Book, covering the three most important parts of our lives: ourselves, our relationships and our purpose—which should always be our passion. To learn more about this wonderful gift book, click here.
If you know somebody who needs a great gift idea for the young women in their lives, please share… ☺
Perfect Gift for Young Women… All Women.
The Woman's Handbook: Everything You Want to Say to Your Daughter, Sister, Niece, Friend in One Simple Book.
____________________
Blue the Bird on Flying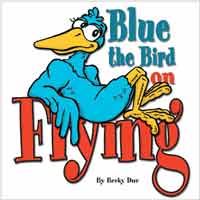 Blue the Bird does not want to fly. Follow Blue's journey of self-discovery through a lesson in independence and self-esteem. This delightful book is designed to help teach shapes and colors.
To get your copy of Blue the Bird, click here.
____________________
I'm Upset ~ App for Women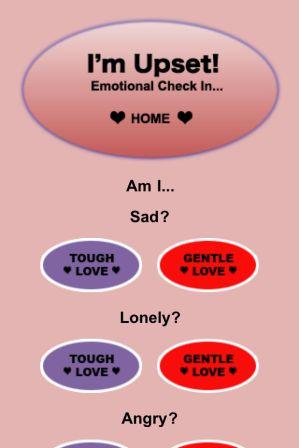 I'm Upset! is like having your two best friends in your purse—with you at all times—one who gives you Tough Love and one who is more about the Gentle Love. It doesn't matter what you're going through, this app is a quick and easy way to get that needed boost when you're just not feeling right. To download your I'm Upset! app, click here.
Don't let little upsets distract you from your awesome life.
Check in with I'm Upset!
Have fun with it… and tell your friends!
Returning Injury and The Dumpster inspired me to create the I'm Upset! app for women. I loved how Rebecca (from Returning Injury) checked in with herself—something I've learned to do over the years. I also loved how Nicole (from The Dumpster) had two amazing friends—Renee, who gave her tough love and Roxanne who was gentle and loving. These characters inspired me! You can download I'm Upset! for only 99¢
Very cool, fun and inspiring!
I'm Upset! It's good for when for when your feeling upset.
I'm Upset! This App is the best one yet!
____________________